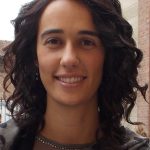 ---
Name: Sacchetto Lidia
Current institution: Department of Clinical Statistics Europe of Bayer Pharmaceutical in Berlin (Germany).
Biosketch:

Lidia is an Italian mathematician, currently working as a genomic and biomarker statistician at the Department of Clinical Statistics Europe of Bayer Pharmaceutical in Berlin (Germany).

Graduated cum laude in Mathematics at Università degli Studi di Torino in 2009 with a master thesis in stochastic process (awarded the Federico Orsingher Prize by Fondazione Roma Sapienza), she moved her first steps in research at the Piedmont Cancer Registry (Torino, Italy), being involved in different epidemiological analyses and national and international projects. She co-authored more than 15 scientific papers and presented her works (as oral and poster contribution) in many international conferences. She has been awarded the Enrico Anglesio Prize in 2016 for the presentation of the study: "In situ, thin and thick melanoma in Europe: how and where are they increasing?", then published on the peer-reviewed European Journal of Cancer. In the same time, Lidia also collaborated with the Cancer Genomics Lab of the Tempia Foundation (Biella, Italy), doing statistical analyses on genome data. As a natural accomplishment of her studies and research activity, in 2016, Lidia joined a PhD program in Pure and Applied Mathematics sponsored by Politecnico di Torino and Università degli Studi di Torino. She received the Young Statistician Award (IBS - Italian Region representative) from the International Biometric Society for the work presented at the IBS-Italian Region conference in July 2019; then, in July 2020, Lidia successfully defended her PhD thesis "Statistical methods for biomarker discovery and multivariate classifier evaluation". The PhD experience offered Lidia the opportunity to strengthen her statistical, machine learning and data mining knowledge, as well as the challenges of teaching.

Since 2014, Lidia is a member of GEM (Genes, Environment and Melanoma), a research group based in the US and focused on melanoma research. Since 2017 Lidia has been a member of the Scientific Committee of the Fondo Anglesio Moroni and, after its dissolution, she has been among the founders of the Fondo Elena Moroni, serving now as Vice-President. In addition, she is a member of the ASERT (Association for the Support of the Epidemiology and Registration of Tumours, Turin, Italy) whereas, from the statistical side, Lidia joined the International Biometric Society, Italian Region in 2018 and the PSI (Statisticians in Pharmaceutical Industry) Society in 2019.
---
© 2023 Fondo Elena Moroni • Via San Secondo 25, 10128 Torino, Italy • info@fondoelenamoroni.org