News from the board
Claudia Allemani, winner of the Anglesio Prize 2008, has recently been promoted to Professor of Global Public Health at the London School of Hygiene and Tropical Medicine, UK.The Elena Moroni Fund congratulates Claudia on this important achievement.
---
Euroskin 2021 Conference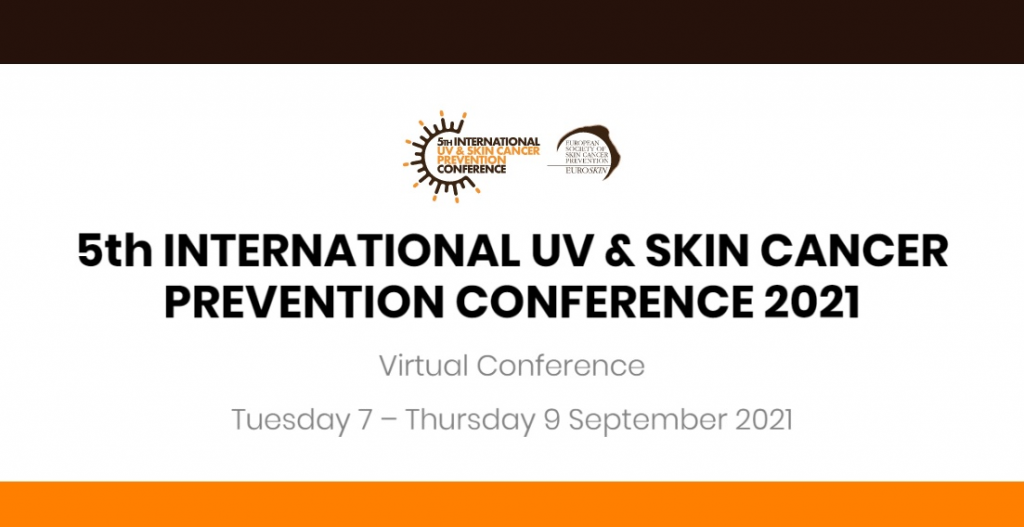 The European Society for Skin Cancer Prevention (EUROSKIN) has organized The 5th International UV & Skin Cancer Prevention 2021 Virtual Conference from Tuesday 7 to Thursday 9 of September 2021. EUROSKIN and its partners have developed an attractive program that brought together experts from the international scientific and skin cancer prevention community. Here is the program: https://uvandskincancer2020.org/programme .The Conference has focused on both primary and secondary prevention, discussing shared recommendations and guidelines addressing health professionals and decision-makers.Stefano Rosso was invited to present the results of the study recently published on fatal melanoma. In the discussion, it has been pointed out the relevance of this methodological approach for studying also non-melanoma skin cancers. The whole event was recorded and all recordings will be published on a dedicated EUROSKIN YouTube channel, which will be available for all registered attendees.
---
A new Manual on Cancer Registration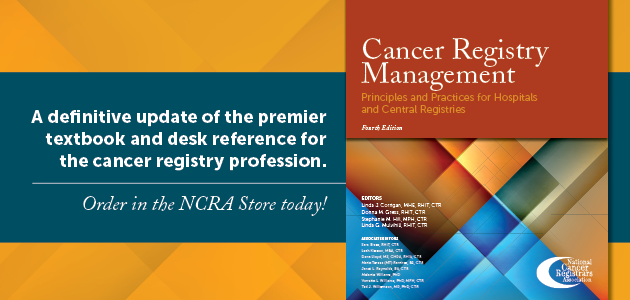 The US National Cancer Registrars Association has recently published the 4th edition of the manual Cancer Registry Management. Principles and Practice for Hospital and Central Registries. Freddie Bray (IARC) and Roberto Zanetti (IACR, FEM) authored two chapters of the book, one describing the activities of the International Association of Cancer Registries, the second updating the description of the global population coverage in measuring the cancer impact. The book, useful also for registrars outside the US, is obtainable at https://www.ncra-usa.org/About/Store/4th-Edition-Textbook (Price: 199 USD)
---
News from the Board

Dr. Dora Loria, member of the Jury of the Enrico Anglesio Prize since its first edition in 2006, has been hired by WHO-OPS (Oficina Panamericana de Salud) as consultant on the development of cancer registration in Argentina, within the frame of the activities of the INC, Instituto Nacional de Cancer of that country.We warmly congratulate Dora for this new position.
---
An interesting workshop
Our colleagues and friends, Dr Gian Paolo Dotto, Massachusetts General Hospital and ICP Lausanne, and Dr. Giovanna Chiorino, Laboratorio di Genetica, Fondazione Tempia, Biella, are the organizers of the First International Workshop on "Sexual Dimorphism in Cancer" , to be held online on March 22-26. See more details at the poster here below. Contact person: giovanna.chiorino@fondazionetempia.org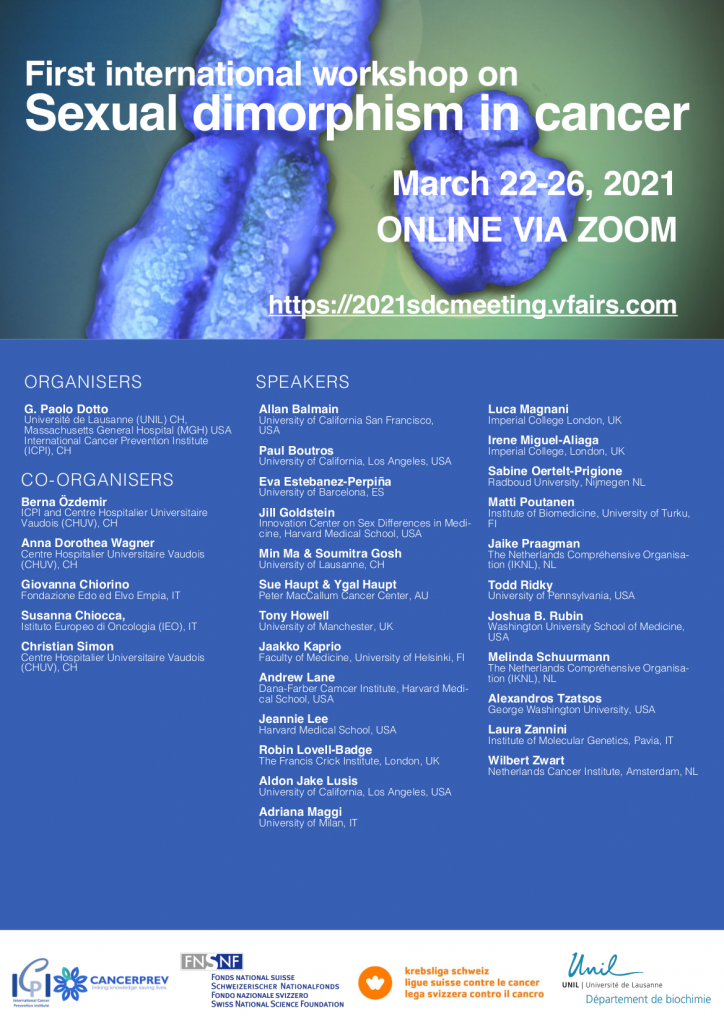 ---
International Agency for Research on Cancer. Summer School 2021.
The International Agency for Research on Cancer, Education and Training Programme, is organizing also for 2021 the traditional Summer School. This year the courses will be 100% on line, and will take place at various dates in May and June. Application is now open (deadline 1st of March 2021; acceptance notified by mid-April).
Click here for details and on line application form: https://training.iarc.fr/summer-school-in-lyon-calls
---
Un corso virtuale su Tumori Cutanei e Psoriasi, Ragusa, 5-6 Marzo 2021
La sezione ragusana della LILT, Lega Italiana per La Lotta contro i Tumori, organizza un corso da tenersi nei prossimi 5 e 6 Marzo. Il corso, dal titolo "Amici per la pelle", si terrà in modalità virtuale su piattaforma web. Il Fondo Elena Moroni è tra I patrocinatori della iniziativa. Il programma dettagliato verrà presto pubblicato su questa pagina del sito.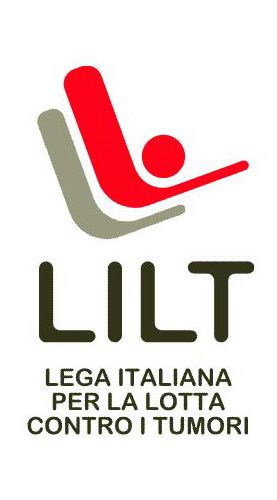 Brochure con Programma:
Cliccare qui
---
La Cerimonia di Premiazione si è svolta on line, come annunciato, il giorno 18 Novembre. Maggiori notizie alla Pagina PREMIO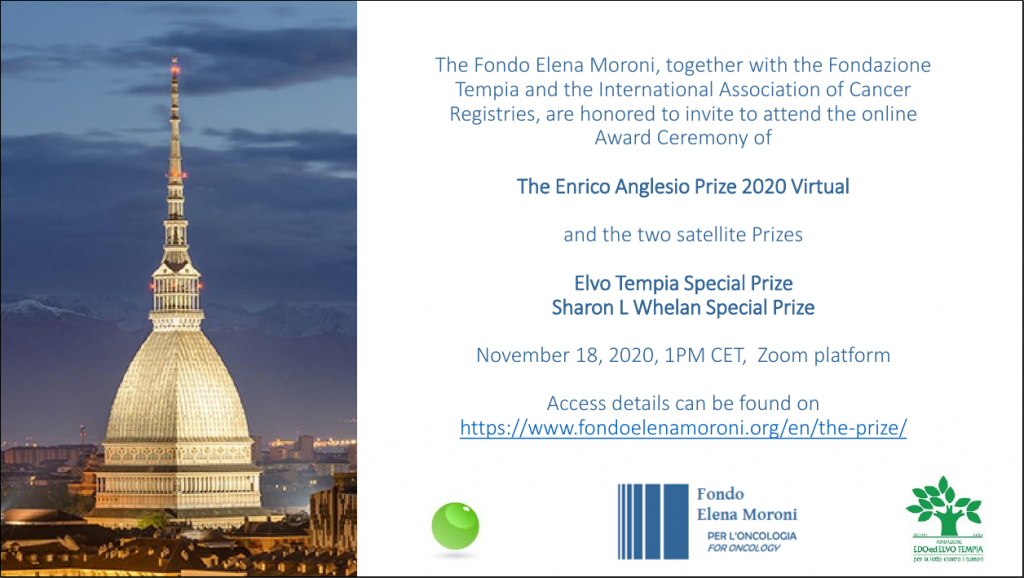 ---
News dal Consiglio Scientifico e Direzione
Lidia Sacchetto, Vice-Presidente del Fondo Elena Moroni, il 7 luglio 2020 ha conseguito il titolo di Dottore di ricerca in Matematica Pura e Applicata, discutendo la tesi "Statistical methods for biomarker discovery and multivariate classifier evaluation" presso il Politecnico di Torino. Il Fondo Elena Moroni si congratula con Lidia per l'importante risultato.
---
Cancellazione del Convegno Annuale IACR a Noumea ma Conferma del Premio Enrico Anglesio
L'annuale convegno scientifico dell'Associazione Internazionale dei Registri Tumori (IACR), che si doveva tenere a Noumea (Nuova Caledonia) il prossimo ottobre, è stato cancellato per i problemi intervenuti con la pandemia Covid-19.
In quell'occasione veniva assegnato il Premio Enrico Anglesio ad un giovane ricercatore che presentava un lavoro originale. Tuttavia, per non privare i giovani ricercatori di questa prestigiosa opportunità, il Consiglio Scientifico del Fondo Elena Moroni, ha deciso di proporre il Premio in una nuova versione.
Su questo sito presto pubblicheremo notizie su come parteciparvi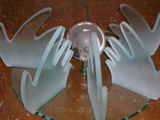 ---
© echo date("Y") ?> Fondo Elena Moroni • Via San Secondo 25, 10128 Torino, Italy • info@fondoelenamoroni.org