Marion Piñeros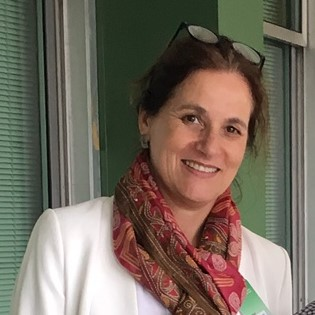 Marion Piñeros, MD, MSc
Affiliation:
Section of Cancer Surveillance, International Agency for Research on Cancer
Bio:
Marion Piñeros is a medical doctor from the Universidad el Rosario in Colombia and master of Public Health from the London School of Hygiene and Tropical Medicine in London. Before working at the International Agency for Research on Cancer she worked for one year at the Programme for Action on Cancer Therapy (PACT) from the International Agency of Atomic Energy (IAEA) and fourteen years at the National Cancer Institute in Colombia. Here she led the public health group, being strongly involved in cancer surveillance and control.
Her main interest has been the production, dissemination and use of information for cancer control. She has advocated for a clear understanding among stakeholders of the role of PBCR in cancer surveillance and is interested in the best ways of delivering technical assistance for cancer registry development, as well as contributing to descriptive epidemiology studies of cancer in different areas. She works amongst others with the IARC Regional Hub for Cancer Registration in Latin America.
Five relevant publications
Pilleron S, Cabasag CJ, Ferlay J, Bray F, Luciani S, Almonte M, Piñeros M. Cervical cancer burden in Latin America and the Caribbean: Where are we? Int J Cancer. 2020 Sep 15;147(6):1638-1648. doi: 10.1002/ijc.32956. Epub 2020 Apr 9.
Piñeros M, Parkin DM, Ward K, Chokunonga E, Ervik M, Farrugia H, Gospodarowicz M, O'Sullivan B, Soerjomataram I, Swaminathan R, Znaor A, Bray F, Brierley J. Essential TNM: a registry tool to reduce gaps in cancer staging information. Lancet Oncol. 2019 Feb;20(2):e103-e111. doi: 10.1016/S1470-2045(18)30897-0.
Piñeros M, Abriata MG, Mery L, Bray F. Cancer registration for cancer control in Latin America: a status and progress report. Rev Panam Salud Publica. 2017 Feb 8;41:e2. doi: 10.26633/RPSP.2017.2. eCollection 2017.
Piñeros M, Znaor A, Mery L, Bray F. A Global Cancer Surveillance Framework Within Noncommunicable Disease Surveillance: Making the Case for Population-Based Cancer Registries. Epidemiol Rev. 2017 Jan 1;39(1):161-169. doi: 10.1093/epirev/mxx003.
Piñeros M, Ramos W, Antoni S, Abriata G, Medina LE, Miranda JJ, Payet E, Bray F. Cancer patterns, trends, and transitions in Peru: a regional perspective. Lancet Oncol. 2017 Oct;18(10):e573-e586. doi: 10.1016/S1470-2045(17)30377-7.
---
© 2023 Fondo Elena Moroni • Via San Secondo 25, 10128 Torino, Italy • info@fondoelenamoroni.org