An interesting workshop
Our colleagues and friends, Dr Gian Paolo Dotto, Massachusetts General Hospital and ICP Lausanne, and Dr. Giovanna Chiorino, Laboratorio di Genetica, Fondazione Tempia, Biella, are the organizers of the First International Workshop on "Sexual Dimorphism in Cancer" , to be held online on March 22-26. See more details at the poster here below. Contact person: giovanna.chiorino@fondazionetempia.org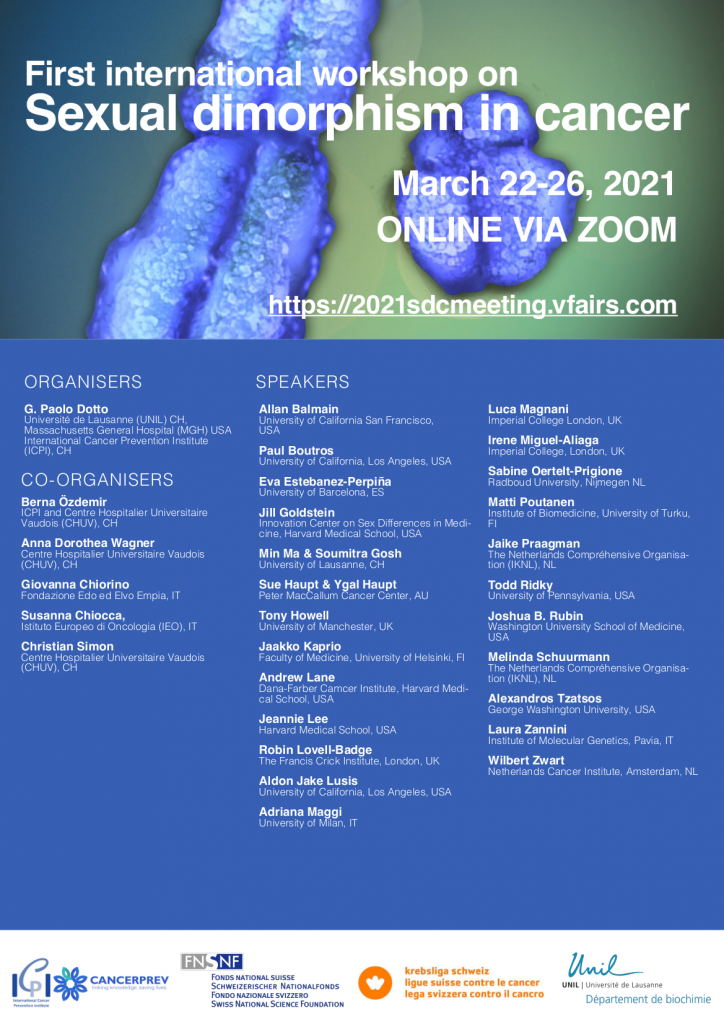 ---
Obituary
Risto Sankila (1958 – 2019)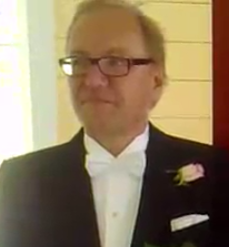 We belatedly learnt the sad news that our colleague and friend Risto Sankila passed away. After graduating in medicine, Risto joined as junior scientist the team of the Finnish Cancer Registry in Helsinki. He authored a good number of appreciated epidemiological studies, based on the Finnish data, as well as on the Nordic and the European ones. His research interest included childhood cancer, survival analysis at population level, evaluation of screening programs, and clinical epidemiology. At the beginning of this century Risto was appointed Chief Medical Officer at the Finnish Cancer Registry, being very instrumental in organizing the IACR (International Association of Cancer Registries) conference in Helsinki, June 2002. He has been Professor at the Tampere University till 2008. Risto has also been a valuable contributor of several European research consortia such as Eurocare and Eurocourse, and served as member of the Steering Committee of the European Network of Cancer Registry. We will miss his acute intelligence, his deep knowledge of the statistical job, his irony and his warm way of dealing with all of us.
Roberto Zanetti and Jan Willem Coebergh
Turin and Oegstgees, February 2021
and a personal memory of Jan Willem on the Risto's PhD thesis, May 1998
"Risto's thesis, 'Cancer patient survival: a population-based approach' (Cancer Society of Finland Publication, No. 60, Helsinki 1998) comprised 5 Finnish Cancer Registry-based studies on neuroblastoma, seasonal variation in incidence, pregnancy and breast cancer survival, hereditary colon cancer and multiple cancers. Each with specific reasearch questions, methodolocial approaches and involvement of a variety of clinicians and the Finnish biostatisticians we all know. His promotors for the thesis were Timo Hakulinen and Lyly Teppo, while I was the opponent. After 1,5 hour of the available 5 we were all exhausted by the intensity of the discussion, and getting thirsty and hungry of course. A delicious and very stylish dinner followed as well as the next day a trip to a house near a lake with a sauna and photographs being taken which have still not reached the internet.
Because Risto mastered thus also the subject of survival analysis he went to Lyon and did a lot of work for the European Network of Cancer Registries, among other resulting in his editorship of an IARC Technical Publications No. 37 titled : Evaluation of Clinical Care by Cancer Registries (appeared in 2003) with speakers from 9 European countries and a broad range of issues, i.e. aspects of survivorship"
---
International Agency for Research on Cancer. Summer School 2021.
The International Agency for Research on Cancer, Education and Training Programme, is organizing also for 2021 the traditional Summer School. This year the courses will be 100% on line, and will take place at various dates in May and June. Application is now open (deadline 1st of March 2021; acceptance notified by mid-April).
Click here for details and on line application form: https://training.iarc.fr/summer-school-in-lyon-calls
---
Un corso virtuale su Tumori Cutanei e Psoriasi, Ragusa, 5-6 Marzo 2021
La sezione ragusana della LILT, Lega Italiana per La Lotta contro i Tumori, organizza un corso da tenersi nei prossimi 5 e 6 Marzo. Il corso, dal titolo "Amici per la pelle", si terrà in modalità virtuale su piattaforma web. Il Fondo Elena Moroni è tra I patrocinatori della iniziativa. Il programma dettagliato verrà presto pubblicato su questa pagina del sito.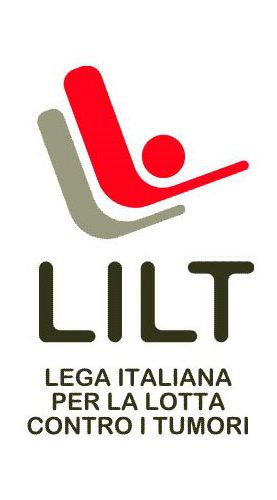 Brochure con Programma:
Cliccare qui
---
La Cerimonia di Premiazione si è svolta on line, come annunciato, il giorno 18 Novembre. Maggiori notizie alla Pagina PREMIO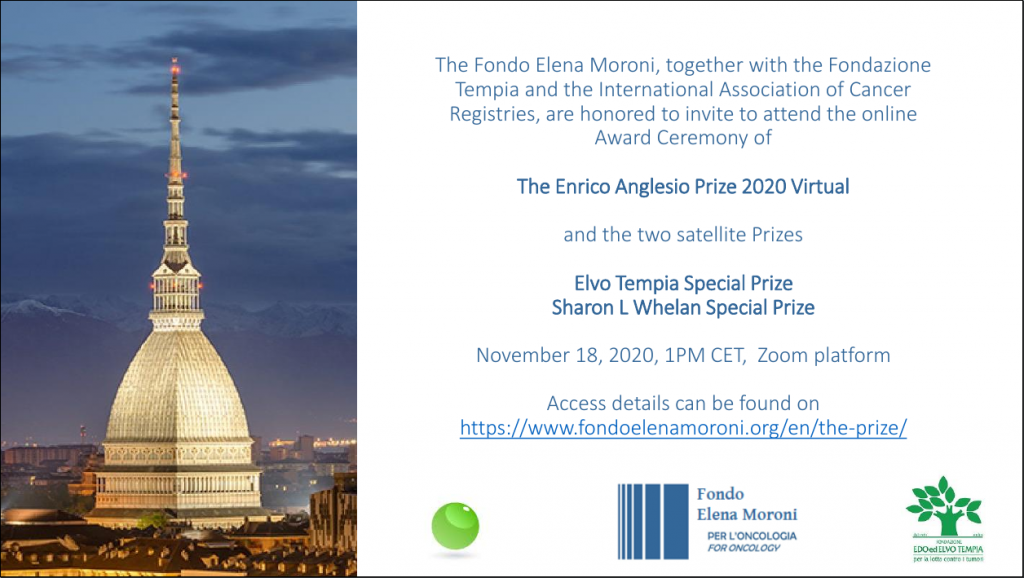 ---
News dal Consiglio Scientifico e Direzione
Lidia Sacchetto, Vice-Presidente del Fondo Elena Moroni, il 7 luglio 2020 ha conseguito il titolo di Dottore di ricerca in Matematica Pura e Applicata, discutendo la tesi "Statistical methods for biomarker discovery and multivariate classifier evaluation" presso il Politecnico di Torino. Il Fondo Elena Moroni si congratula con Lidia per l'importante risultato.
---
Cancellazione del Convegno Annuale IACR a Noumea ma Conferma del Premio Enrico Anglesio
L'annuale convegno scientifico dell'Associazione Internazionale dei Registri Tumori (IACR), che si doveva tenere a Noumea (Nuova Caledonia) il prossimo ottobre, è stato cancellato per i problemi intervenuti con la pandemia Covid-19.
In quell'occasione veniva assegnato il Premio Enrico Anglesio ad un giovane ricercatore che presentava un lavoro originale. Tuttavia, per non privare i giovani ricercatori di questa prestigiosa opportunità, il Consiglio Scientifico del Fondo Elena Moroni, ha deciso di proporre il Premio in una nuova versione.
Su questo sito presto pubblicheremo notizie su come parteciparvi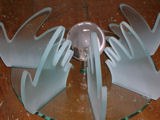 ---
News al tempo del Covid-19
Stime di impatto Covid 19 in Piemonte e previsione di scenari evolutivi.
Intorno al momento di picco della pandemia, Iacopo Baussano e Stefano Rosso hanno realizzato delle stime degli scenari evolutivi prevedibili a seconda delle scelte di contenimento effettuate nella regione.
Di seguito il link alla loro pubblicazione
Buona lettura !
Fase 2: tornare alla normalità o mantenere il distanziamento?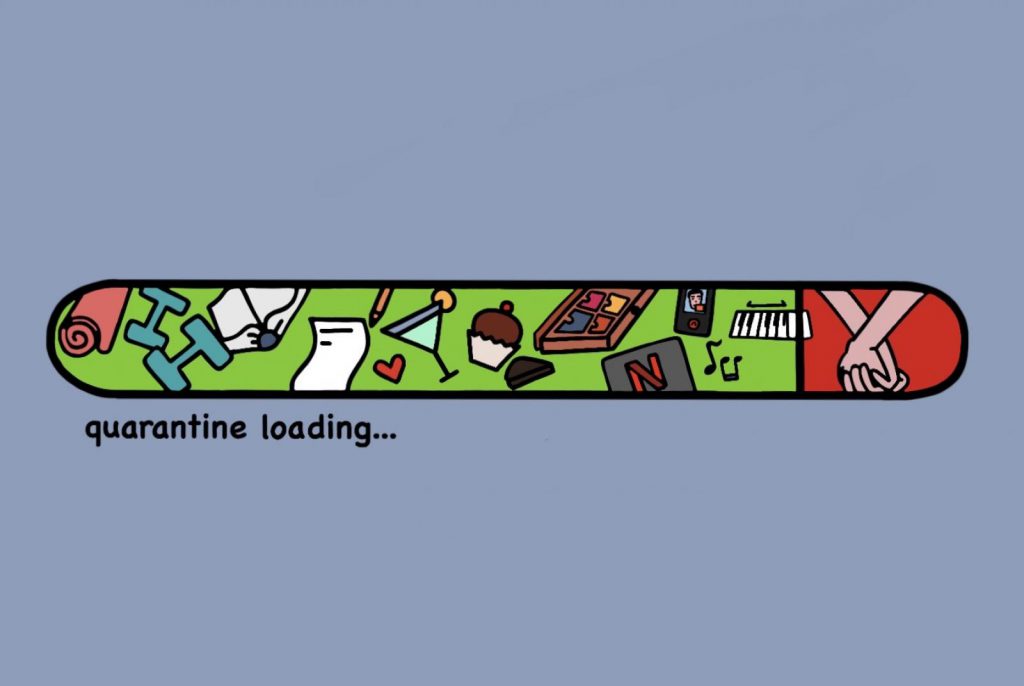 ---
News dal Consiglio Scientifico e Direzione
Lidia Sacchetto, Vice-Presidente del Fondo Elena Moroni, ha iniziato a lavorare nel febbraio 2020 alla Bayer AG di Berlino nella unit di Biomarkers and Data Insights come Statistico. Il Fondo Elena Moroni si congratula con Lidia per la nuova posizione e le augura il meglio per questa esperienza.
---
News dal Consiglio Scientifico e Direzione
La D.ssa Stella de Sabata, Membro del Comitato scientifico del FEM e Advisory Committee Member dell'Uppsala Health Summit, ha partecipato al convegno "Healthy Urban Childhoods" l'8-9 ottobre 2019.
Inoltre, nel dicembre 2019 la D.ssa Stella de Sabata è stata eletta nel Board dell'International Diabetes Federation – European Region -. Il FEM si congratula per il prestigioso riconoscimento
---
© echo date("Y") ?> Fondo Elena Moroni • Via San Secondo 25, 10128 Torino, Italy • info@fondoelenamoroni.org